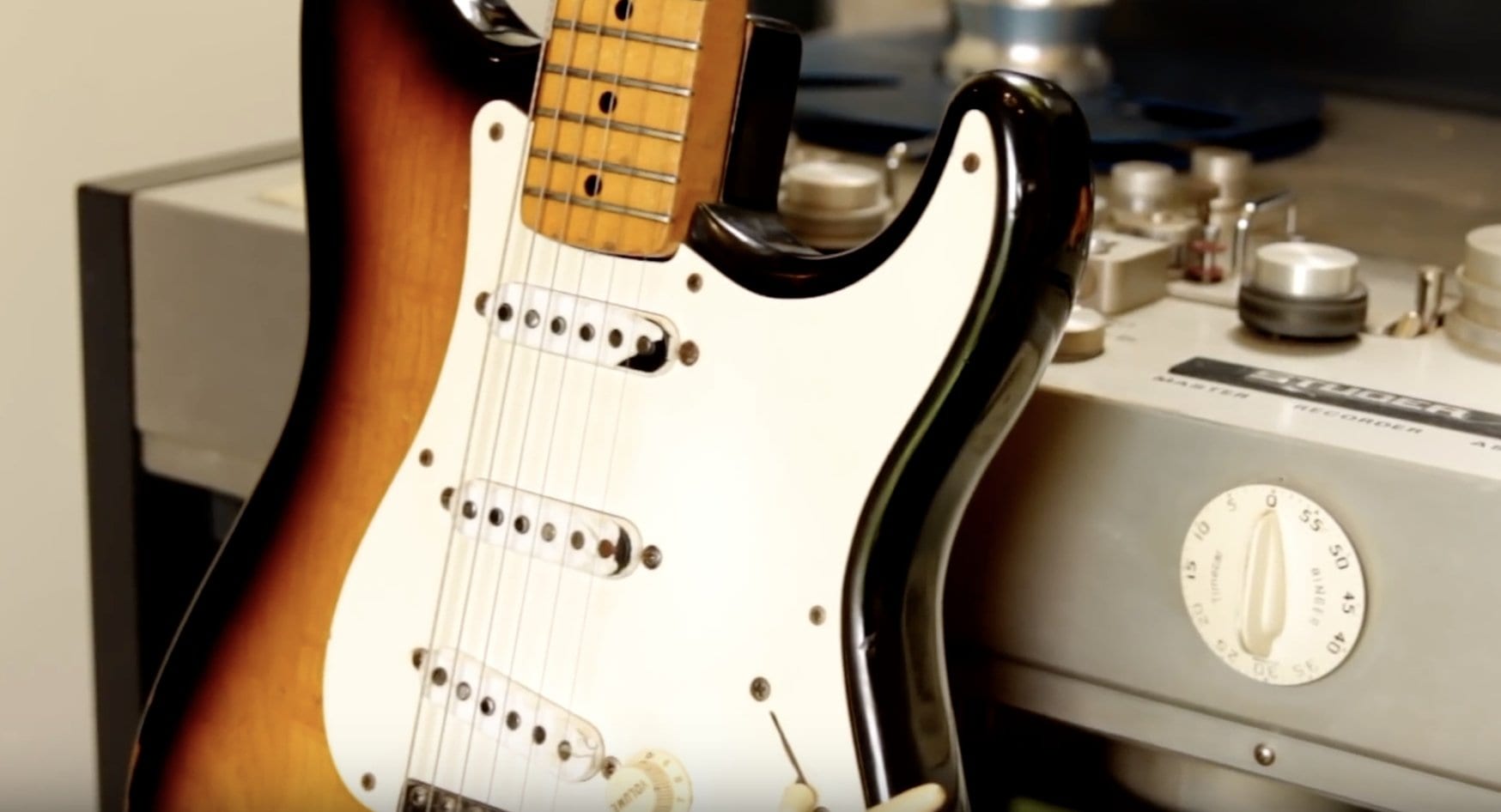 Buddy Holly was one of the most influential musicians of the 1950s and his unique style of music is still enjoyed by fans today. He really was one of the most influential singers and songwriters in rock and roll history. even though he only recorded for about three years. He left an indelible mark on the music world. To a great degree, this is due to his unique guitar sound.
What is the classic Buddy Holly guitar responsible for all that wonderul rock and roll? It was an electric guitar – a '54 Sunburst Fender Stratocaster. He bought a new one from Adair Music Company in Lubbock, Texas after he'd seen his guitar teacher play one recently at one of his lessons.
The story is a bit more interesting than that though because Buddy's first guitar was a 1952 Les Paul. He had bought the Gibson a few months earlier from the same shop but had apparently come back to swap it for one of the slick new Fender Stratocasters. Apparently, beyond just wanting to get his hands on the new revolutionary stylings of the Strat, he was also a bit unhappy with some of the idiosyncrasies that the early Les Pauls are well known for.
Why did he want the new Strat instead? It is said he was lured by the new stylings of the revolutionary new Stratocaster guitar with its visual aesthetic, six-piece saddle allowing precise intonation of each string and much lower weight and better playability than the early Les Paul.
Let's face it. You can't really imagine that Buddy Holly magical rhythm guitar 'twang' on a Gibson can you? 'Peggy Sue' or 'That'll Be The Day' played on a Gibson Les Paul Goldtop – doesn't work for me.
Early 50s Les Paul belonging to John Lee Hooker
Buddy Holly An His Fender Stratocaster Guitar: A Mystery Solved?
As to some important guitar histoy, the question is, what happened to the Stratocaster he bought that day that arguably so influenced the sound of his rapid list of amazing hits before his tragic death? According to a new-ish documentary called The '54, it was believed his original 1954 sunburst Strat disappeared after his death and was lost in the same plane crash that claimed the life of Buddy Holly, Ritchie Valens, and The Big Bopper.
Everyone knows that bit of the legend right? But wait, there's more! The doco claims the guitar might have survived and ended up in Australia of all places and was purchased by one Gil Matthews, an avid collector of old Fender Guitars. Even if it's not true, what a great story! Here is the link to the story on YouTube, or check it out below.https://www.youtube.com/embed/LzwVr3H2EYc?feature=oembed
Getting the Buddy Holly Sound Now
You've got a few options…
The latest take on the old classic.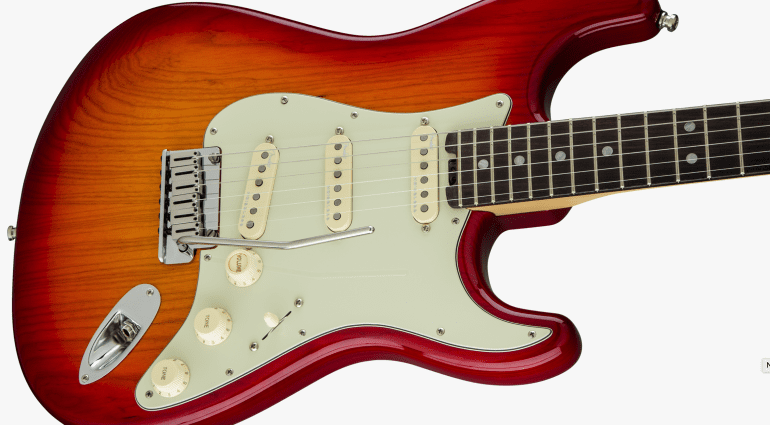 If you want Fender's latest take on the old '50s classic then you could pick yourself up a Fender American Elite Series Stratocaster. Of course it comes with either maple or rosewood fretboard and other little improvements like a spoke truss rod adjuster and a cutaway neck heel for improved access to the high bits. The truss rod adjuster is so not the 1950's but perfect for actual gigging musicians that need to tweak the neck with temperature changes.
Oh, it's also got the 4th gen Noiseless Pickups. I reckon Buddy would love it – although he probably would still prefer his original. I know I would if I was him. For the Buddy rhythm sound, select the middle pickup only with the tone knob rolled all the way off.
Anyway, here it is on Amazon. Here are some other options and variations on American Musical Supply.
What about the amplifier?
If you can't afford a late 1940s Fender Pro-Amp for around the $6-7K mark (that's me folks!), you can get a pretty good approximation of that amazing Buddy Holly rhythm sound with a Fender amp (or Fender style amp), set with a little gain on the clean channel, added in with some slightly boosted mids and slightly cut trebles.
Here is an option from American Music Supply – a lovely vintage replica of the 65 Twin Reverb.
What Chords Did Buddy Holly Use?
One of the things that made Holly stand out was his use of chords. He often used unusual chords that were not commonly used in popular music at the time. This gave his music a distinctive sound that helped him stand out from other artists. While some of the chords he used were fairly standard, others were more unusual and helped to create his signature sound.
Play some Buddy Holly Music
If you want to belt out some classic Buddy Holly songs on your '50s sunburst stratocaster, you should check out the amazing array of sheet music available at Virtual Sheet Music. It doesn't break the bank and in my opinion, is far better than fiddling around trying to find the chords to a song in the middle of a jam with friends. Check out this collection of BH tunes.